Local Sponsorship
When one of our employees let us know that his daughter's football team were looking for sponsorship, Wolf Components were delighted to help out.
At last weekend's match, the Scawthorpe Scorpions Under 10's were staying warm and looking ready to win in their new rain jackets.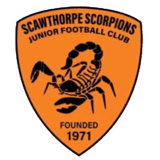 Scawthorpe Scorpions are one of Doncaster's oldest and biggest Junior Football Clubs, playing in the Sheffield and Hallamshire League. Wolf are privileged to be supporting young people in a community team and to further our links with the local area as we grow.
We wish the team all the best for this season!